Morrison prison gets new administrator
HUFFMAN – Ron Jones, a 32-year NC Department of Correction veteran, has been named the new administrator for Morrison Correctional Institution, a medium security prison that confines approximately 800 male inmates and has a 370-person staff.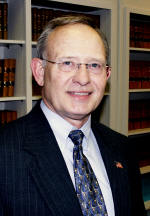 The announcement was made by Boyd Bennett, Division of Prisons director.
"Ron brings a great mix of experience and management skills to Morrison," Bennett said. "He is a good communicator and goal-oriented planner, and he's very good at process evaluation and decision-making."
Jones has been acting superintendent at McCain Correctional Hospital since October, and was previously operations manager in the Division of Prisons' South Central Region Office.
"I am looking forward to working at Morrison Correctional Institution as its administrator," Jones said. "The facility has an exceptional team of correctional professionals, who have made great strides in developing quality programs for the inmates, while addressing custody and security matters in a very thorough and complete manner."
He began his career in corrections in 1974 as a case manager at the now closed Sandhills Correctional Center. He rose through the ranks, as program supervisor at Sandhills, program director at Morrison, and assistant superintendent and administrator at Piedmont Correctional Institution. He was superintendent at Lincoln Correctional Institution prior to being named operations manager at the South Central office in 1999.
Jones succeeds Emilio Pagan, who retired.
A graduate of Barton College with a bachelor of science degree in physical education and recreation, Jones has studied for a master's degree in administration at UNC-Pembroke.
Jones and his wife, Brenda, reside in Pinehurst, and they have two adult sons, Chad and Cory. Jones is a past governor of the NC West District of Optimist International, a youth service organization. He enjoys working out and playing golf in his spare time.
###
Editors: A digital copy of the photo, in either color or black-and-white,
can be obtained by calling 919-716-3713.