Bert Turner named a top Community Corrections officer
APEX –Bert Turner, a probation/parole officer who is assigned to the U.S. Marshal's Office in Fayetteville, was today named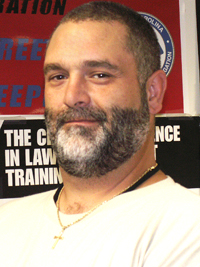 by Director Robert Lee Guy and the N.C. Department of Correction as one of the state's top Community Corrections officers.
Wayne Marshburn, Turner's judicial district manager, said Turner puts the word "community" into corrections.
Turner was dining out one night last December when a fellow patron began suffering a stroke. Officer Turner – calling on his training, quickly recognized what was happening, took control of the situation, and commanded calm, showing special concern for the stroke victim's wife, who was emotionally distraught. The restaurant manager wrote that Officer Turner "was obviously trained well to act under pressure."
But Turner has also demonstrated that he can create pressure -- the kind that brings dangerous criminals to justice. The City of Wilson commended him for helping jail the suspects in an August 2006 shooting that left the victim paralyzed. The Wilson police chief wrote that Officer Turner is an asset to the department.
In the Wilson investigation, Turner was working as a U.S. Marshal, assigned by the Division of Community Corrections to that agency's Fugitive Apprehension Task Force.
He has been busy in that role. Turner helped capture two suspects in a November 2006 murder in Spring Lake. Officer Turner was also instrumental in the recent arrest of a feared sex offender who had absconded in Fayetteville.
District Manager Marshburn said Officer Turner is well known and widely respected throughout Cumberland County. He said Turner "readily provides a helping hand to fellow officers within this department and the law enforcement community as a whole."
Turner attended Elon College and has a bachelor of science degree in criminal justice from Fayetteville State University. He began working in the Division of Community Corrections as a probation/parole officer in 1995.
Gov. Michael F. Easley has declared July 15-21, 2007, as Probation, Parole and Community Supervision Officers Week in North Carolina in observance of the important public safety work done by more than 2,000 probation/parole officers working across North Carolina.
# # #
Editors: A digital copy of the photo in color or black-and-white is available by calling 919 716 3700.