Brandi Renfro named Probation/Parole Officer of the Year
MARSHALL – Brandi Renfro, a community probation officer working in Madison County, was recognized today by Director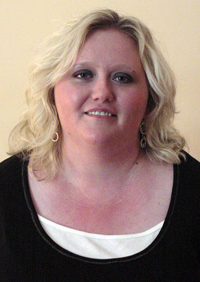 Robert Lee Guy and the Division of Community Corrections as one of eight probation/parole officers of the year.
Renfro was recognized for her commitment to excellence and her contributions to her fellow officers and the community. Working in a judicial district that spans five counties, Brandi is always ready to help out wherever she is needed. While she supervises her own caseload in Madison County, she often travels to Mitchell County to supervise female offenders as they submit to drug screens and helps manage offenders while officers are away in neighboring Yancey County.
Always looking for ways to make operations smoother, Renfro prepared information packets for local judges who needed to know more about the interstate transfer of probation cases. She frequently coordinates with the Madison County sheriff's detectives to search offenders' residences. These searches have recovered weapons and drugs on many occasions, and resulted in numerous arrests.
A bulletin board that Renfro created in the office waiting area displays Madison County's most wanted probation violators and has helped generate tips from offenders who visit the office, and resulted in the capture of several probation absconders.
Renfro also excels at the administrative tasks that are part of her job. Probation officers across her district have adopted a form she created to handle intake of new probation offenders in the courtroom.
Renfro is a graduate of Mountain Heritage High School in Burnsville and Lees-McRae College. She is a resident of Yancey County.
Gov. Michael F. Easley has declared July 15-21, 2007, as Probation, Parole and Community Supervision Officer's Week in North Carolina in observance of the important public safety work done by more than 2,000 probation/parole officers working across North Carolina.
# # #
Editors: A digital photo of Renfro is available via e-mail by calling the Public Affairs Office at (919) 716-3700.