Danny Heath named Probation/Parole Officer of the Year
TRENTON – Danny R. Heath, a surveillance officer in Jones County, was recognized today by Director Robert Lee Guy and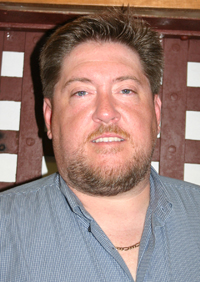 the Division of Community Corrections as one of eight probation/parole officers of the year.
Heath was recognized for his work with other local, state and federal law enforcement agencies in the apprehension of fugitives, seizure of illegal drugs and recovery of stolen property. He received special recognition form Robyn Pendergraft, director of the SBI, for his assistance in a major drug operation in Jones County that resulted in thousands of dollars and property seized. He also is the safety officer for Jones County and also assists other community agencies.
He is a graduate of Carteret Technical College and is a veteran of the U.S. Navy where he served in the Gulf War in 1991.
Gov. Michael F. Easley has declared July 15-21, 2007, as Probation, Parole and Community Supervision Officer's Week in North Carolina in observance of the important public safety work done by more than 2,000 probation/parole officers working across North Carolina.
# # #
Editors: A digital photo of King is available via e-mail by calling the Public Affairs Office at (919) 716-3700.