David Carter named Probation/Parole Officer of the Year
WHITEVILLE – David G. Carter, an intermediate probation officer in Columbus County, was recognized today by Director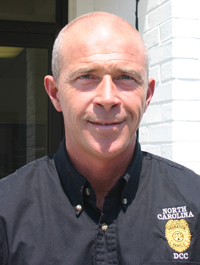 Robert Lee Guy and the Division of Community Corrections as one of eight probation/parole officers of the year.
Carter was recognized for heroism following the deadly tornado strike in November 2006 which killed at least eight persons in the eastern Columbus County community of Riegelwood.
He responded to a call from Sheriff Chris Batten requesting all available personnel to report to the disaster area. Upon reporting to the command post, he was assigned the grim task of locating fatalities and injured persons. The 15-year veteran observed a large path of total destruction caused by the storm. He and other first responders were in constant danger due to heavy rain and the threat of more tornadoes.
Carter also serves as county-wide Community Threat Group Officer helping to supervise those on probation or parole with known and suspected gang affiliations. He holds a B.S. in Criminal Justice from NC State University.
Gov. Michael F. Easley has declared July 15-21, 2007, as Probation, Parole and Community Supervision Officer's Week in North Carolina in observance of the important public safety work done by more than 2,000 probation/parole officers working across North Carolina.
# # #
Editor: Digital copies of the photo, in color and black-and-white, are available by calling 919 716 3700.