Halifax probation officer named one of state's best
APEX – Lester and Doris Strickland of Halifax County call Erica Hawkins their "angel." The Division of Community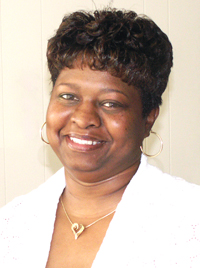 Corrections calls her one of the best probation officers in the state.
Hawkins, who provides intermediate supervision of probationers, was today named one of eight Probation, Parole and Community Supervision Officers of the year. At an awards ceremony, she was cited for helping save the Stricklands from drowning last September.
Hawkins and two friends were fishing at a Gaston Lake boat ramp, when Mrs. Strickland began trying to back a trailer into the water to help load her husband's boat. Somehow, the car's brakes failed and the car rolled backward into the water.
The mishap jolted the boat, knocking Mr. Strickland into the water. He could not swim, and Mrs. Strickland could not get out of the car, which was quickly filling with water.
When the car rolled into the water, Hawkins and her friends plunged to the rescue. A flotation device was quickly thrown to Mr. Strickland. Hawkins had to help Mrs. Strickland overcome panic that added to the difficulty of getting her out of the car in a just a few seconds.
Ultimately, the car was completely submerged. But the Stricklands' lives were saved by the heroics of Hawkins and her friends.
Chief Probation Officer Mahala Burch wrote that Hawkins' "willingness to help without hesitation demonstrates the great leadership skills" that she has.
Hawkins has criminal justice degree from Elizabeth City State University and began working with the Department of Correction in 1996.
Gov. Michael F. Easley has declared July 15-21, 2007, as Probation, Parole and Community Supervision Officer's Week in North Carolina in observance of the important public safety work done by more than 2,000 probation/parole officers working across North Carolina.
# # #
Editors: A digital copy of the photo in color or black-and-white is available by calling 919 716 3700.