Richmond County probation officer named one of state's best
APEX – Karen Wilson, a domestic violence probation officer in Richmond County, has been named by the Department of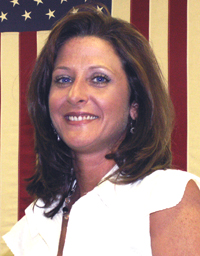 Correction as one of the state's top Community Corrections officers.
In an award ceremony today, Wilson was among eight officers in probation, parole and community supervision who were cited for outstanding contributions to their profession and to the State of North Caroline.
Wilson is known for tireless, no-complaints assistance that draws the respect of fellow officers, local law enforcement, judicial officials and other agencies, including the Richmond County Domestic Violence Task Force.
After Richmond County established a special court day for domestic violence cases, Chief District Court Judge Tanya Wallace personally requested that Community Corrections designate Wilson as its domestic violence officer.
In addition to having the district's domestic violence caseload and working in the court each Monday, Officer Wilson continues to carry a regular caseload of 60. Meanwhile, Wilson has taken calls at home to defuse heated confrontations between domestic violence offenders and victims.
Officer Wilson extends her dedication to domestic violence management in her own time, ensuring the success of community projects that aid battered women.
Barbara Orr, Community Corrections' judicial district manager, said Wilson is "a huge asset" to people of District 20A.
Wilson, a Richmond County native, has a bachelor of science degree from Garner Webb University and began working with the Department of Correction as a correctional officer at the former Morrison Youth Institution in 1995. She moved to Community Corrections in 1997, and was named a probation/parole officer II in 2006.
Gov. Michael F. Easley has declared July 15-21, 2007, as Probation, Parole and Community Supervision Officer's Week in North Carolina in observance of the important public safety work done by more than 2,000 probation/parole officers working across North Carolina.
# # #
Editors: A digital copy of the photo in color or black-and-white is available by calling 919 716 3700.