Paul King named Probation/Parole Officer of the Year
GASTONIA – Paul King, an intermediate probation officer in Gaston County, was recognized today by Director Robert Lee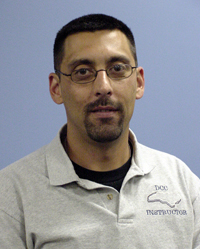 Guy and the Division of Community Corrections as one of eight probation/parole officers of the year. King serves in the Special Operations Unit where works closely with a team to supervise sex offenders on probation or parole.
King was recognized for his creative efforts to improve the operations of his unit. It was his idea to have the officers who supervise sex offenders start an on-call rotation with the district attorney's office, making sure an officer was always available to prosecutors and the court to answer questions, advise on policy and make recommendations on sex offender supervision.
Operation Safe Halloween 2006 was a great success in Gaston County thanks to the organizing and planning efforts of Officer King. He developed the plan for supervising sex offenders on Halloween night and worked with a team of officers and community partner agencies to carry out a successful program. Offenders attended a treatment session, learned about the new laws affecting them and were kept off the streets on Halloween night.
King also serves as a firearms instructor for the Division of Community Corrections and as an Air Force Reservist assigned to USAF Security Forces. He is a graduate of Gardner Webb University.
Gov. Michael F. Easley has declared July 15-21, 2007, as Probation, Parole and Community Supervision Officer's Week in North Carolina in observance of the important public safety work done by more than 2,000 probation/parole officers working across North Carolina.
# # #
Editors: A digital photo of King is available via e-mail by calling the Public Affairs Office at (919) 716-3700.