Bullock Named Prison Superintendent of the Year
John "Terry" Bullock has been named the Division of Prisons' 2006-07 superintendent of the year, qualifying him for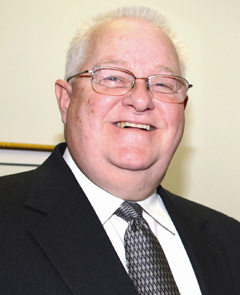 consideration for Warden of the Year by the North American Association of Wardens and Superintendents.
Bullock, superintendent of Hoke Correctional Institution, was nominated because of his leadership and management skills have made the prison one of the safest and most secure and efficient in the state. He has been Hoke CI superintendent since August 2003.
In nominating Bullock for the national award, Correction Secretary Theodis Beck said, "Mr. Bullock is without a doubt deserving of your favorable consideration for this distinguished honor."
The nomination cited Bullock for: taking the initiative to assess Hoke CI's plant improvement needs before taking the helm there; and boosting staff morale through improved management communications and employee empowerment in problem solving.
Among Bullock's accomplishments at Hoke CI are:
Changing work shifts from eight hours to 12.

Finding additional funding for much-needed office equipment.

Converting cell space management to traditional rank and assignment methods.

Provided additional space for existing offices, a much-needed armory and a new operations section.

Expanded the special operations section.

Installed the Division of Prisons' first video visitation units.

Improved staff and inmate visibility through office doors.
The form nominating Bullock for the Division of Prisons Superintendent of the Year Award states: "Most importantly, [Bullock] placed the needs of his staff in the forefront. … He has created an atmosphere of caring, family and teamwork. This is not easily accomplished. His ability to motivate and communicate with people … sets him apart. … Being called a leader is much different from leading. Mr. Bullock is a leader who leads not by title but by ability and example."
# # #