Greensboro district gets new community corrections manager
GREENSBORO – Max Gerald has been named the new district manager for state probation and parole operations in Guilford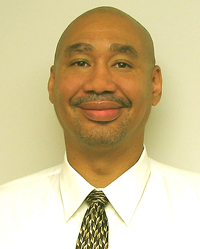 County.
As manager of the Division of Community Corrections' District 18, Gerald oversees 113 probation/parole officers and staff members, who coordinate and manage the probationary supervision of approximately 5,843 offenders.
Gerald, who succeeds the retired Yoleeta Howell, has served his entire corrections career in Guilford County. Beginning as a parole officer in the pre-release/after-care program in 1992, he was promoted to intensive case officer in 1995, to chief probation and parole officer in 2003 and assistant district manager in 2004.
Gerald, a Robeson County native, is a 1985 graduate of UNC-Pembroke with a bachelors degree in criminal justice. Single, he enjoys reading and watching football and basketball.
Editor: Digital copies of the photo, in color and black-and-white, are available by calling 919 716 3700.