New superintendent named at Franklin Correctional
BUNN – Timothy McKoy is the new superintendent at Franklin Correctional Center.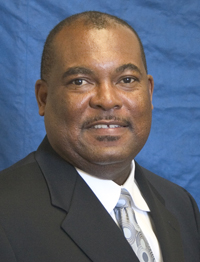 McKoy is responsible for a medium custody prison that houses 480 adult males and has a staff of 196. He succeeds the retired Selma Townes.
Most recently assistant superintendent for programs at Franklin Correctional since 2003, McKoy began his career as a correctional officer at the now-closed Triangle Correctional Center in 1986. He was promoted to programs assistant II at Durham Correctional Center in 1988, and to programs supervisor in 1990 and programs director in 1995, both at Franklin Correctional.
A graduate of NC Central University with a bachelor's degree in criminal justice, McKoy is also a graduate of the Department of Correction's First Line Supervisor training and Correctional Leadership Development Program.
McKoy is active in his church, Solid Rock International, and enjoys watching sports. He, his wife Cathy and their two daughters, Jasmine and Jessica, reside in Raleigh.
# # #
Editors: A digital copy of the photo of Timothy McKoy is available by calling 919-716-3700.