Charlotte's Anita Brown named officer of the year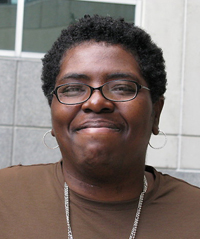 APEX – Anita Brown, an intensive probation officer working in Mecklenburg County, was recognized today by Director Robert Lee Guy and the Division of Community Corrections as one of eight probation/parole officers of the year.

Brown was recognized for her work in supervising offenders on electronic monitoring and electronic house arrest. The officer is known for her willingness to respond at any hour to electronic monitoring equipment alerts and malfunctions.

She has also served in other specialized probation roles, including supervising offenders with domestic violence convictions and offenders involved in the structured day program. Brown recently began a new assignment working with offenders sentenced in Mecklenburg County's mental health court.

Brown is a graduate of Zebulon High School and UNC-Charlotte, where she earned a criminal justice degree. She has worked as a probation officer since 1999.

Gov. Michael F. Easley has declared July 13-19, 2008, as Probation, Parole and Community Supervision Officer's Week in North Carolina in observance of the important public safety work done by more than 2,000 probation/parole officers working across North Carolina.

# # #

Editors: A digital copy of the photo is available in color and black-and-white

by calling the Public Affairs Office at 919-716-3700.