Audra Basaldu recognized as Probation/Parole Officer of the Year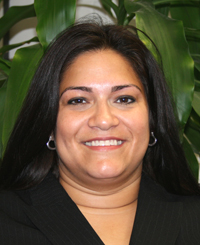 APEX – Audra Basaldu, an intermediate probation officer working in Cumberland County, was recognized today by Director Robert Lee Guy and the Division of Community Corrections as one of eight probation/parole officers of the year.

Basaldu

was recognized for her work as assistant wellness coordinator for District 12 where she also serves as a Spanish interpreter. She has used her Spanish language talents to translate basic probation rules for the district.

She joined the department in 2001. She is a graduate of Fayetteville State University with a degree in sociology and criminal justice and attended Texas A&M University Corpus Christie.

"She conducts herself professionally when dealing with offenders, co-workers and resource agencies," said her supervisor Chief Probation Officer Terry Paige.

Gov. Michael F. Easley has declared July 13-19, 2008, as Probation, Parole and Community Supervision Officer's Week in North Carolina in observance of the important public safety work done by more than 2,000 probation/parole officers working across North Carolina.

# # #

Editors: A digital copy of the photo is available in color and black-and-white

by calling the Public Affairs Office at 919-716-3700.