Avery McKeithan named a top Community Corrections officer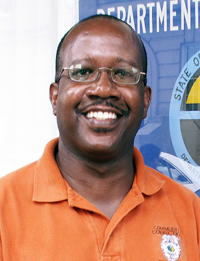 APEX – Avery McKeithan, a surveillance officer in Moore County, was today named by Director Robert Lee Guy and the Division of Community Corrections as one of eight probation/parole officers of the year.

Randy Hussey, judicial district manager, said the McKeithan's work is critical to a broad range of community corrections functions in Moore County.

He supervises offenders who require close monitoring, and is a member of a team that tracks down hard-to-find probationers, a job often performed late in the night. In addition to prior experience as an officer in the Division of Prisons, McKeithan is a certified instructor in multiple disciplines.

Hussey also pointed out that McKeithan helps train new officers and pairs up with fellow officers serving warrants and checking up probationers' locations. McKeithan is also often found at a day reporting center, keeping track of intensive probationers and sex offenders, conducting searches and random drug screens and ensuring general safety.

"Meanwhile, he delivers it all with a positive attitude with both staff and offenders," Hussey said.

McKeithan began his career as a correctional officer in the Division of Prisons, becoming a surveillance officer in District 19D in 2001.

Gov. Michael F. Easley has declared July 13-19, 2008, as Probation, Parole and Community Supervision Officers Week in North Carolina in observance of the important public safety work done by more than 2,000 probation/parole officers working across North Carolina.

# # #

Editors: A digital copy of the photo is available in color and black-and-white

by calling the Public Affairs Office at 919-716-3700.