Denise Gaskill named Probation/Parole Officer of Year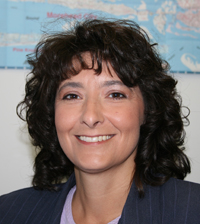 APEX – Denise Gaskill, an intermediate probation officer working in Carteret County, was recognized today by Director Robert Lee Guy and the Division of Community Corrections as one of eight probation/parole officers of the year.

Sh

e joined the department in 2003. She supervises a caseload of high risk offenders in the Newport and Morehead City zones of District 3B. She is known for her tireless, no-complaints assistances which draws the respect of fellow officers, local law enforcement, judicial officials and other agencies. She was recognized by the judicial district manager for her outstanding work in creating a program services guide, which includes all aspects of treatment for offenders on probation.

"When an offender on Officer Gaskill's caseload does not succeed, it is not because she did not look for every possible way to ensure successful completion of probation," said James Parker, judicial district manager, in recommending her for the honor.

Gaskill has a degree in criminal justice from Mount Olive College.

Gov. Michael F. Easley has declared July 13-19, 2008, as Probation, Parole and Community Supervision Officer's Week in North Carolina in observance of the important public safety work done by more than 2,000 probation/parole officers working across North Carolina.

# # #

Editors: A digital copy of the photo is available in color and black-and-white

by calling the Public Affairs Office at 919-716-3700.