Hal McNeely named a top Community Corrections officer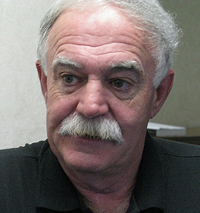 APEX – Hal McNeely, a surveillance officer in Forsyth County, was today named by Director Robert Lee Guy and the Division of Community Corrections as one of eight probation/parole officers of the year.

Chris Oxendine, community corrections district manager, said McNeely is known for a "dependable 'can-do' attitude."

As a certified corrections instructor, McNeely provides in-service training, and, as an emergency medical technician, he serves on the division's emergency response team. McNeely has a close working relationship at all levels, including an assignment with the U.S. Marshall Service fugitive search operation to apprehend dangerous offenders.

McNeely is also personally helpful to offenders. He helped one find a way to stay warm one extra winter cold when the probationer's electricity service was terminated.

Hal quickly identifies and responds to the needs of others," Oxendine said. "He is dependable and thorough, his attitude is positive, and his approach is enthusiastic."

McNeely began his career as a correctional officer in the Division of Prisons in 1980. He was named a surveillance officer in District 21 in 1996.

Gov. Michael F. Easley has declared July 13-19, 2008, as Probation, Parole and Community Supervision Officers Week in North Carolina in observance of the important public safety work done by more than 2,000 probation/parole officers working across North Carolina.

# # #

Editors: A digital copy of the photo is available in color and black-and-white

by calling the Public Affairs Office at 919-716-3700.