Wake County officer supervises offenders with gang ties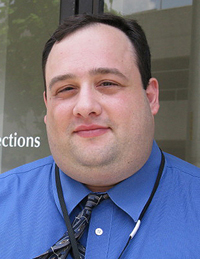 APEX – Joseph Liberatos, an intensive probation officer working in Wake County, was recognized today by Director Robert Lee Guy and the Division of Community Corrections as one of eight probation/parole officers of the year.

Liberatos was recognized for his work as the community threat group program coordinator in Wake County, where he specialized in supervising young offenders involved in gangs. He was recently promoted to a chief probation/parole officer position in Durham County.

He serves as a mentor to newly hired probation officers and is a long-time volunteer for the Special Olympics.

Liberatos is a graduate of Long Island University with a criminal justice degree. He has worked as a probation officer since 2001.

Gov. Michael F. Easley has declared July 13-19, 2008, as Probation, Parole and Community Supervision Officer's Week in North Carolina in observance of the important public safety work done by more than 2,000 probation/parole officers working across North Carolina.

# # #

Editors: A digital copy of the photo is available in color and black-and-white

by calling the Public Affairs Office at 919-716-3700.