Mary Hodges named a top Community Corrections officer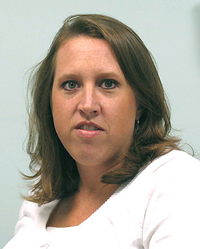 APEX – Mary Hodges, a probation/parole officer in Watauga County, today was named by Director Robert Lee Guy and the Division of Community Corrections as one of eight probation/parole officers of the year.

Among her significant contributions has been managing the district's heavy court workload, including scheduling, intake assignments and keeping judges up-to-date on domestic violence and interstate compact transfer cases. She is the unit's interstate compact specialist.

Hodges' Community Corrections division has a policy on deaf offender interpretation services due to her efforts. Always helpful to co-workers, she trains interns and new officers, serves on the team for electronic house arrest and GPS-monitored offenders, and uses her writing skills to create useful communications.

"Officer Hodges is always effective, flexible and pleasant," Jerry Jackson, manager of community corrections Judicial District 24 said.

Hodges began her career in Community Corrections as a probation/parole officer I in Lincoln County in 2003. She transferred to Watauga County in 2006.

Gov. Michael F. Easley has declared July 13-19, 2008, as Probation, Parole and Community Supervision Officers Week in North Carolina in observance of the important public safety work done by more than 2,000 probation/parole officers working across North Carolina.

# # #

Editors: A digital copy of the photo is available in color and black-and-white

by calling the Public Affairs Office at 919-716-3700.