Quick response earns correctional officer 2008 award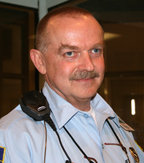 APEX – Kenneth Criscoe's quick action to extinguish a fire in an inmate's cell at Southern Correctional Institution was instrumental in earning him a North Carolina Correctional Officer of the Year award for 2008.

The award was presented to Criscoe today at a ceremony at the Department of Correction's training complex in Apex. Ten other officers from across the state were similarly honored.

Criscoe's actions prevented a possible catastrophic event and removed the threat of injury to other inmates and staff. Officer Criscoe joined the Department of Correction at Southern Correctional Institution in 1998. He has served on the England Segregation Unit and on the Prison Emergency Response Team (PERT). Prior to coming to Southern, he served 16 years in the U.S. military.

Officer Criscoe also is commended for assisting his fellow officers as well as his supervisors in professional development as part of his overall commitment to safety procedures and policy.

# # #

Editors: A digital copy of the photo is available in color and black-and-white

by calling the Public Affairs Office at 919-716-3700.