Department of Correction dog handler among state's top officers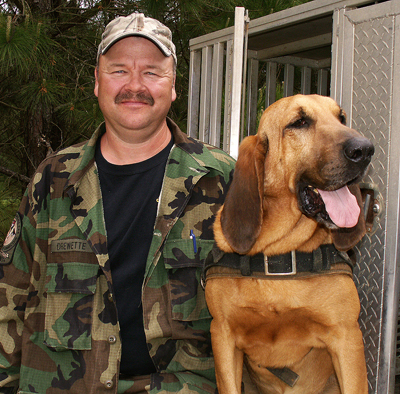 APEX – Bobby Drewette and his bloodhound Sam are such a good team in tracking down escaped inmates and other missing persons that he has been named a North Carolina Correctional Officer of the Year for 2008.

The award was presented to Bobby Drewette today at a ceremony at the Department of Correction's training complex in Apex. Ten other officers from across the state were similarly honored.

Based at Tillery Correctional Institution, Drewette has proven his integrity in unsupervised performance of duties, and his dedication and commitment by foregoing advancement opportunities order to remain a dog handler.

In addition to applying his dog handling skills to tracking down escaped inmates, Officer Drewette is always eager to help find lost children and Alzheimer's patients and to help local law enforcement agencies turn up suspects and fugitives. Drewette has numerous letters of praise from agencies who have benefited from his services.

Officer Drewette also spends significant amounts of time maintaining his personal readiness and that of his bloodhound Sam.

He began his career at Odom Correctional Center in 1982 and has been a dog handler at Tillery Correctional since 1987.

In nominating Officer Drewette, Regional Operations Manager Cynthia Bostic wrote that he "is a very productive employee who strives to always give his best to his agency."

###

Editors: A digital copy of the photo is available in color and black-and-white

by calling the Public Affairs Office at 919-716-3700.