Security work makes her a top state correctional officer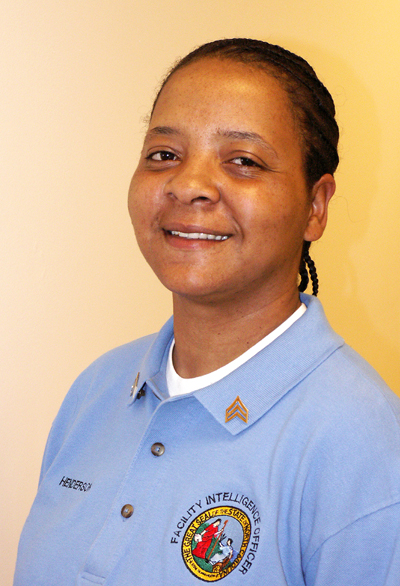 APEX – Sgt. Karen Henderson's role in the aftermath of a fatal inmate stabbing at Scotland Correctional Institution helped lead her to being named a North Carolina Correctional Officer of the Year for 2008.

She was presented the award today at a ceremony at the Department of Correction's training complex in Apex. Ten other officers were similarly honored.

As the Security Threat Group intelligence officer at Scotland Correctional Institution, Sgt. Henderson led a team that conducted an initial investigation into a February 2007 stabbing death. The team gathered significant information that ultimately helped lead the State Bureau of Investigation to charge the suspects.

A professional, a leader and a team player, Sgt. Henderson has earned the respect of her peers and of inmates. Even when off-duty, she responds quickly to calls for investigations. Sgt. Henderson also stays abreast of published reports on gang activities, and has gained the confidence of numerous STG inmates.

In nominating Sgt. Henderson for the award, Assistant Superintendent Albert Thomas said, "She consistently performs above and beyond the call of duty."

Sgt. Henderson began her career as a correctional officer in 1998 at Brown Creek Correctional Institution. She transferred to the now-closed Sandhills Youth Center in 2001 and first arrived at Scotland Correctional in 2003. She was promoted to sergeant in 2007.

# # #

Editors: A digital copy of the photo is available in color and black-and-white

by calling the Public Affairs Office at 919-716-3700.