Money-saving computer program earns officer award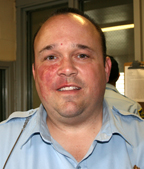 APEX – Officer John Preslar has spent two years designing a computer program that not only improves labeling of inmate drug tests but also saves the taxpayers of North Carolina nearly $124,000. His innovative program earned him the honor of being named a 2008 Correctional Officer of the Year.

The award was presented to Preslar today at a ceremony at the Department of Correction's training complex in Apex. Ten other officers from across the state were similarly honored.

Preslar is currently assigned to the operations department at Western Youth Institution in Morganton where he works specialized duties including drug testing, DNA testing, fingerprint identification and security threat groups.

His recent design of a computer program to overlay internal computer network data fields into the printing process for the drug test labels results in savings of time, related costs and possible errors and rejections.

The improved labeling methods contributed to a drug test rejection rate of just .54 percent, ranking Western Youth Institution as one of three state facilities with a one percent or lower rejection rate.

# # #

Editors: A digital copy of the photo is available in color and black-and-white

by calling the Public Affairs Office at 919-716-3700.