Officer receives award for saving life of elderly man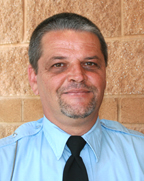 APEX – A tranquil morning in March in a field near the Cane River in rural Western North Carolina quickly turned into a harrowing incident when Officer Russell Wilson heard the frantic cries of "Oh, God, save me I am drowning." Officer Wilson and his brother, Stanley, were feeding their horses when they heard a car crashing down an embankment and into the river.

Officer Wilson was able to pull 78-year-old Clyde Painter from the vehicle that was partially-submerged in the icy water and tend to him until rescue personnel arrived. His heroic action resulted in Wilson being named a 2008 Correctional Officer of the Year.

The award was presented to Wilson today at a ceremony at the Department of Correction's training complex in Apex. Ten other officers from across the state were similarly honored.

Wilson, who has over nine years of experience at Craggy Correctional Institution in Asheville, serves as a shift mentor and control officer. He serves at the Security Threat Group Officer which requires that he conduct interviews and weekly searches in dealing with gang members. He also is trained in inmate drug testing, fingerprinting, inmate discipline and the use of self-contained breathing apparatus.

# # #

Editors: A digital copy of the photo is available in color and black-and-white

by calling the Public Affairs Office at 919-716-3700.