Surry and Stokes counties gain new probation manager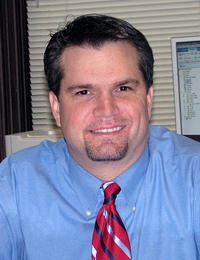 MOUNT AIRY -- Brian Gates has been named manager of the Division of Community Correctionsí District 17B, which covers Surry and Stokes counties. He succeeds the retired David Willard.
District 17B has 44 total staff members, 35 of whom are sworn officers, including three chief probation/parole officers. Also on staff are three Community Service Coordinators, and five office assistants. The districtís caseload includes approximately 2,000 supervised offenders and unsupervised community service cases.
Gates began working in corrections in 1993 as a parole officer in Mecklenburg County. He transferred to Surry County in 1995 as a probation/parole officer, was promoted to probation/parole officer II in 1999 and rose to chief probation/parole officer in Forsyth County in 2003.
A 1991 graduate of UNC-Charlotte, Gates majored in history and minored in political science and criminal justice. He earned a masterís degree in public administration from UNC-Pembroke in 2004. Gatesí training includes basic law enforcement.
He was the districtís 2003 Probation/Parole Officer of the Year, was awarded the Advanced State Corrections Certificate by the Criminal Justice Education and Standards Commission, and is a member of Pi Alpha Alpha, a national honor society for public administrators.
First elected in 2002, Gates is vice chair of the Surry County Board of Education and is active in First Baptist Church of Dobson, the Dobson Lions Club and Little League Baseball. Additionally, he is an avid sports fan and a Surry Central High School sports booster.
Gates and his wife, Sherry, have two sons, Jackson Bennett, age 9, Cannon James, 3.
# # #