New manager named for local probation operations
SMITHFIELD – Joyce James has been named the new manager to oversee the probation and parole operations of District 11, which includes Harnett, Johnston and Lee counties.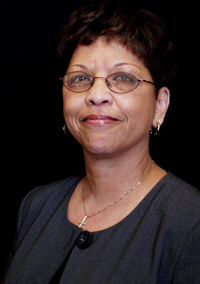 District 11's 69 officers and administrative staff are responsible for the supervision of 2,660 offenders.
James was previously a chief probation/parole officer in Harnett County. She succeeds the retired Lynwood Rains.
Beginning her Commununity Corrections career as a probation/parole officer in 1985 in Wake County, James was promoted there to a chief officer in 1993, and then to chief in Harnett County in 2005.
The Fayetteville State University graduate has a bachelor of science degree in education, with a minor in sociology.
In her spare time, James enjoys riding horses, and is a member of the Warrenton Posse Saddle Club. She is the daughter of Rosa Boyd and the late Roy Boyd of Manson in Warren County.
James has a daughter, Melissa Haynes.
# # #
A digital copy of the photo is available by calling 919-716-3700.