Caswell resident managing Wake probation operations
RALEIGH -- Maggie N. Brewer is the new manager of Community Corrections operations in Judicial District 10, which covers Wake County.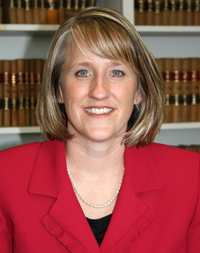 As judicial district manager, Brewer oversees the work of 154 officers and administrative staff who supervise approximately 7,450 offenders on probation, parole, post-release supervision and community service.
She began her corrections career at Central Prison as a program assistant in 1996, becoming an admissions technician a year later at Polk Correctional Institution. Brewer began working in Community Corrections in 1998 as a probation/parole officer in Wake County, where she has risen through the ranks.
Brewer has a bachelor of arts degree from N.C. State University. She is a Department of Correction general, firearms and pepper spray instructor.
Brewer, the mother of 10-month-old Eliza, has a family heritage in North Carolina corrections. Her husband, Bart, is a probation/parole officer in Caswell County; her mother and stepfather, Dorothy and Mike Ledford, are retired from the Division of Prisons; and her father, Joseph Norris, is retired from the Division of Community Corrections.
She is past president of the N.C. Probation/Parole Association and a member of the State Board for the N.C. Association for the Management and Treatment of Sex Offenders.
Brewer enjoys scrapbooking, reading and sports at N.C. State and Appalachian State University.
# # #
A digital copy of the photo is available by calling 919-716-3700.