Ricky Anderson named warden of the year
RALEIGH -- Ricky Anderson, administrator of Pasquotank Correctional Institution in Elizabeth City, has been named the Department of Correction's 2008-2009 superintendent of the year, qualifying him for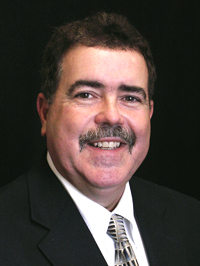 consideration for the Warden of Year by the North American Association of Wardens and Superintendents.

"Over the past 29 years, Ricky has made a significant impact on the Division of Prisons," said Director Boyd Bennett. "He is an outstanding correctional professional who is highly dedicated to the field of corrections. He has a special skill set that is very difficult to find in one person. He strives to be on the cutting edge of corrections, and is an exceptional correction administrator."

Anderson has created operational and budget efficiencies and effectiveness in only 16 months at Pasquotank CI, an 864-bed close-custody prison. Among the numerous improvements at the prison, Anderson named a new management team; increased custody staff efficiency; enhanced electronic communications and security monitoring; and successfully addressed such issues as the implementation of a no-smoking policy.

In less than a year, Anderson readied Pasquotank CI for inspection and accreditation by the American Correctional Association, a historic milestone for the N.C. Division of Prisons.

Confirming the prison's role in the community, Anderson has elevated Pasquotank CI's working relationships with the local law enforcement and the district attorney's office. He also led the development of a training partnership with the College of the Albemarle.

A 29-year DOC veteran, Anderson was administrator at Foothills Correctional Institution in Morganton prior to joining Pasquotank CI. His accomplishments while leading Foothills CI included:
Pioneering the Department of Correction's first Security Threat Group Management Unit (STGMU). The staff earned a departmental award for their accomplishments and North Carolina has earned an excellent reputation among other states for its approach to gangs within the prison system.

The education section receiving National Correctional Education Association accreditation, a first for the North Carolina Department of Correction.

Annexing a 230-bed minimum custody chronic disease facility.

Improving efficiencies in shift, visitation and inmate feeding.

Piloting innovative security improvements.
Additionally, the Department of Correction has named Anderson as its representative to various committees because of his knowledge and professionalism. He has been active in the Rotary Club and in the National Association of Wardens.

"Mr. Anderson has been instrumental in the development of programs and initiatives that have resulted in significant changes," Bennett said.

Anderson is married, and has two children and one grandchild.

# # #

A digital copy of the photo is available by calling 919-716-3700.