Greene Correctional Institution has new superintendent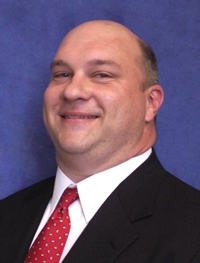 MAURY - Thomas E. Asbell II has been named the new superintendent at Greene Correctional Institution, a minimum custody prison that houses approximately 650 adult males and has 200 employees.
He succeeds Renoice Stancil, who was promoted to administrator at Bertie Correctional Institution.
Asbell has 20 years of experience in corrections, beginning in 1989 at Eastern Correctional Institution as a program assistant, who rose to become assistant superintendent for custody and operations at Tyrell Prison Work Farm in 2000. He transferred in the same position to Hyde Correction in 2004 and back to Eastern Correctional in 2006.
The 1988 East Carolina University graduate and former member of the school's Pirates football team has a bachelor of science degree in criminal justice. Asbell is also a graduate of the Department of Correction's Correctional Leadership Development Program and has been awarded the State Advanced Corrections Certificate.
The Bertie County native and his wife, Anita, have four children. His parents are Thomas and Rose Asbell of Powellsville.
Asbell is active in his church and in the Pitt County community, and enjoys classic cars and tractors and collecting antiques.
# # #
---