Pitt Community Corrections has new district manager

G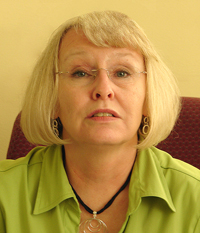 REENVILLE - Carla Bass, formerly judicial district manager for Lenoir and Greene counties, has been named to oversee Community Corrections operations in Pitt County, which is District 3A.

Bass, succeeding the retired Mary Lou Sutton, has a staff of 51, including 38 officers, three community service coordinators and four administrative support employees. The staff is responsible for about 2,400 offenders.

Beginning her career in 1979 as a Pre-Release and After Care parole officer, Bass was promoted in 1989 to unit supervisor at the DWI Treatment Facility at DART/Cherry. In 1996, she was named at chief probation/parole officer in District 8A (Lenoir and Greene counties), where she was promoted to judicial district manager in 1998.

The 1978 East Carolina University graduate has a bachelor of science degree in social work. She has completed the states Certified Public Manager training.

Bass and her husband, Deryl, retired from the N.C. Highway Patrol, have a daughter, Erica; a son and daughter-in-law, Quinn and Amy; and a grandson, Brock.

# # #
---