Wake Combined Campaign Celebrates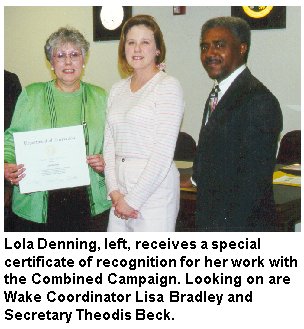 Correction managers and team captains for the State Employees Combined Campaign for Wake County were honored Feb. 18 for their efforts during the charitable giving drive.
In 1999, the Wake employees pledged $90,957.40 for the campaign, due largely in part to the hard work of the DOC's Combined Campaign managers and team captains.
Among those recognized were:
-- Melvin Bennett, Management Information Systems (MIS), first place prize, who received a $100 gift certificate for her work in increasing MIS pledges by a phenomenal 210 percent. Pledges from MIS increased from $1,726 in 1998 to $5,347 in 1999. MIS also won the Supreme Effort Award for increased pledges and for increasing its participation from 29 percent to 53 percent.
-- Tonya Mills, Raleigh Correctional Center for Women, who received a $50 gift certificate to Crabtree Valley Mall for winning second place. Under Mills' leadership, RCCW employees increased their pledges by 116 percent from $595 in 1998 to $1,285 in 1999.
-- Wendy Carter, Correction Enterprises, received a $25 gift certificate to Crabtree Valley Mall for winning third place. Under Carter's leadership, Enterprise increased its pledges by 97 percent from $2,661 in 1998 to $5,230 in 1999.
Lola Denning, special assistant to the Secretary, was also recognized for her many years of dedicated service to the Combined Campaign.
Across the state, Correction employees donated $416,242.