Correction Managers Complete Leadership Program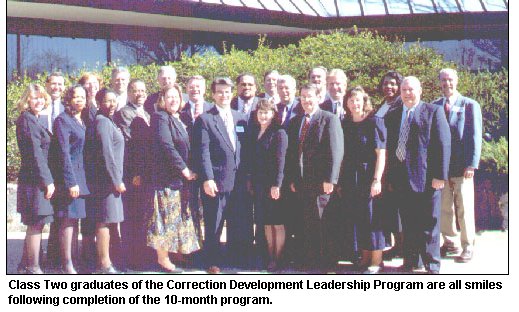 Twenty-two Correction managers have joined a select group of employees as graduates of the Department's Correction Development Leadership Program.
Ten months of intense study and training culminated Feb. 29 in a graduation ceremony attended by graduates, families, Correction colleagues and Department officials. With the addition of the recent graduates, the number of CLDP alumni now totals 44. The first class graduated in June 1999.
During the ceremony the graduates received certificates presented by Secretary Theodis Beck and a challenge issued by State Personnel Director Ron Penny, the keynote speaker.
"As leaders, you will have a great challenge in recruiting, retaining, developing and motivating the type of workforce that the state's citizens demand and expect," Penny said. "You must motivate people and restore pride in public service."
The program has four components, leadership and management skills training, mentoring, department-specific training and training reinforcement activities. The participants were required to attend five separate in-residence sessions of four to six days each, often with 10- to 12-hour days. Mentoring activities were scheduled at other times, and participants were required to complete a management project.
Participants gave the program high marks and said they found the time and effort worthwhile. "We received so much information and new approaches for ourselves, our facilities and the Department," said Brenda Jarra, superintendent at North Piedmont Correctional Center for Women. "I hope that I am able to give back to the Department a fraction of what I received from this program."
Jeff Allen, judicial district manager in Burlington, called CLDP the best and most useful training that he's received with the Department. John Maness, assistant superintendent for programs at Franklin Correctional Center, said the components were useful and applicable to on-the-job issues. Both called the mentoring component invaluable in gaining a greater understanding for other parts of Correction's massive organization.
Karen Brown, administrative officer with Central Engineering, said she found interaction with managers from other divisions most beneficial. "I made 21 friends, all of whom I can contact throughout my career for assistance or advice. CLDP taught us the importance of being proactive, creative and risk-taking managers, something the Department will need in order to compete in the 21st century."
From the Division of Prisons, new graduates are Sidney D. Harkleroad, assistant superintendent for programs, Marion Correctional Institution; Vicki Courtney, administrative officer, Fountain Correctional Center; Timothy L. Kimble, assistant superintendent, Southern Correctional Institution; John A. Maness, assistant superintendent for programs, Franklin Correctional Center; Joseph B. Hall, assistant superintendent for programs, Harnett Correctional Institution; Clifford D. Johnson, superintendent, Buncombe Correctional Center; John M. Crawford, superintendent, Duplin Correctional Center; and Duncan Daughtry, superintendent, Carteret Correctional Center.
Graduates from the Division of Community Corrections are Roy Daniels, judicial district manager, District 1 (Elizabeth City); Terry C. Gootee, judicial district manager, District 5 (Wilmington); and Jeffrey B. Allen, judicial district manager, District 15A (Burlington).
Graduates from Administration are Barbara S. Baker, budget officer, Controller's Office; Steven R. Hanusa, clinical director, Division of Alcohol and Chemical Dependency; Linda D. Sisk, purchasing officer, Auxiliary Services; Michael D. Williams, transportation manager, Auxiliary Services; Ralph Hamilton Martin Jr., systems accountant, Controller's Office; Richard M. Byrd Jr., Office of Staff Development and Training; Karen A. Brown, administrative officer, Correction Enterprises; Sandra S. Notice, training director, Division of Alcohol and Chemical Dependency; and Pamela D. Taylor, training instructor, Office of Staff Development and Training.
The training program is viewed as a model by corrections agencies in other states. Correction leaders presented an overview of the program during the American Correctional Association's meeting in January. OSDT staff are exploring several alternatives to secure funding in order for the program to continue.