Newkirk Retires from Durham Correctional Center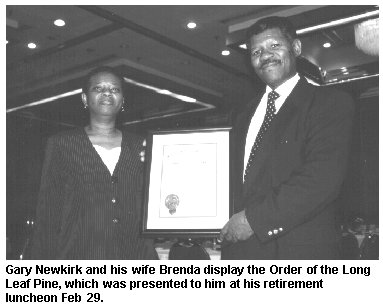 DURHAM — After 30 years of service to North Carolina, Gary Newkirk has retired as superintendent of Durham Correctional Center.
At a luncheon Feb. 29, more than 120 friends, family, co-workers, and fellow members of Mount Level Missionary Baptist Church gathered at the Durham Hilton to wish Newkirk well in retirement.
At the luncheon, he joked with the crowd, "I'm glad you could be here with me this leap year, leap day and leap out."
Some of the speakers at the luncheon called Newkirk "strong-willed," while others called him "stubborn." But, they all agreed that he got things done. Retired Iredell Superintendent Robert Reese, said, "He stuck to his beliefs." Reese went on to say that Newkirk was a man of "quiet diplomacy, who set out to do what he planned to do."
At the conclusion of the luncheon, Durham assistant superintendent David Cates revealed a secret about Newkirk _ he loves anything associated with old western movies. Cates presented Newkirk with his gift, a black cowboy duster jacket. Secretary Theodis Beck presented Newkirk with the State's highest honor _ The Order of the Long Leaf Pine signed by Governor James B. Hunt.
Newkirk is undecided about his plans after retirement. "I'm going to do a little of this and a little of that," he said. He, said, however, he is considering working in the Retired Employee Utilization Program.
"I want to start doing more of what I want to do rather than what others want me to do." He added that those "others" do not include his wife of 30 years, Brenda.
Before the luncheon, Newkirk said, "It's been a very good run. I've met some fine people and made wonderful acquaintances." He said the many changes in the system kept him challenged during his employment with DOC.
Before working at Durham for the last 21 years, Newkirk worked at Umstead Youth Center in Butner and Triangle Correctional Center. He was a superintendent for 25 or his 30 years of service to the Department of Correction.
---
Rosefield Retires

Bert Rosefield retired in February as assistant director for Health Services Division of Prisons. More than 150 friends and co-workers honored him during a retirement luncheon at the Raleigh Marriott.
His retirement marked the end of 26 years of service to DOC. Other positions Rosefield has held at DOC include psychological services director for the South Piedmont Area, and Diagnostic Center director. He said his most satisfying years were spent at North Piedmont Area Office and McCain Hospital.
Even though Rosefield has retired from DOC, he's not quite ready for a rocking chair. He is now working as a correction healthcare consultant managing a demonstration program to try hospice care in two of the nation's largest jails. He is also serving as an expert witness in inmate healthcare lawsuits.
Rosefield said the most important thing he learned while at DOC is "the importance of integrity and the people you work with."