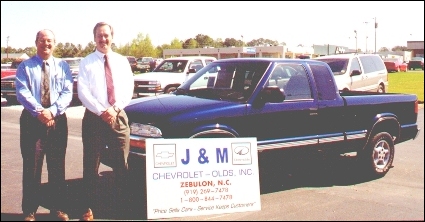 Carlos Wheeler, co-owner of J&M Chevrolet, and Jerry Carlyle admire the truck golfers can win at Correction Enterprises' golf tourney to benefit Special Olympics.
Golf Tourney to Aid NC Special Olympics
BUNN – Correction Enterprises' sign plant is sponsoring a golf tournament June 9 to benefit North Carolina Special Olympics.
The four-man superball event will be held at the River Golf Club in Bunn. Registration begins at noon, with tee-off at 1:30 p.m. Dinner, awards and door prizes will be at 6:30 p.m. Registration fees are $40 per person or $35 for sworn law enforcement officers, which includes golf and dinner for one. Registration deadline is May 26 and the rain date is June 16. The tournament field is limited to 100 players.
Jerry Carlyle is spearheading the effort to host the event. Carlyle said he hopes the event will raise $10,000. In addition to registration fees, the tourney is generating money from corporate and tee box sponsorships. Participants will have an opportunity to win prizes for top shots at certain holes. For example, a 2000 Chevrolet S-10 extended cab pickup truck will be given to anyone making a hole-in-one on hole 11. J&M Chevrolet in Zebulon is donating the truck. For more information about the tourney, contact Carlyle at (919) 496-3095.
---