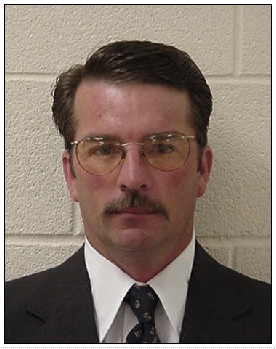 John Bailey
Surveillance Officer Helps Capture Kidnapping Suspect
By Pamela Walker
MARION - Probation/Parole surveillance officer John Bailey recently helped McDowell County sheriff's deputies apprehend a man suspected of kidnapping a 7-year-old girl.
According to the McDowell County Sheriff's Office, Jason Kelly Arrowood allegedly snatched the little girl while she was playing outside with friends. The little girl was able to free herself and return home only to be snatched up a second time by the man and taken into the woods. She got away once again and returned home. By that time, the other children she had been playing with told their babysitter what had happened and local authorities were contacted.
When Bailey spotted someone matching the suspect's description, he stopped the man and started talking with him. "I just asked him if he was OK and stalled until deputies arrived," said Bailey. "I look at it as just doing our job. I think everyone should keep their eyes open and get involved in their community." The sheriff's office later charged Arrowood with first degree kidnapping and taking indecent liberties with a child.
Bailey has been a surveillance officer for four years. He has been an employee of the Department for 10 years, and previously worked as a sergeant at Marion Correctional Institution.
---