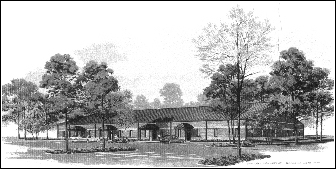 Artistís rendering of completed Piedmont Region Office.

New Piedmont Region Office Dedicated

By Pamela Walker


KERNERSVILLE-Secretary Theodis Beck cut the ribbon to officially dedicate the new Piedmont Region Office during a ceremony April 19. The new office opened Jan. 3 and houses staff from five offices including the Division of Prisons Piedmont Region Office, the Piedmont Triad Regional Employment Office, the Piedmont Region Mental Health Office, the Division of Alcoholism and Chemical Dependency Programs, and the MIS Integrated Network Services Office.

"We are bringing people together from several divisions or offices under the big DOC umbrella into one location," said Secretary Beck. "This new office illustrates a new era in collaboration and coordination in our efforts to provide the highest quality services to the stateís citizens."

The Piedmont Region Officeís new home in Kernersville was chosen because of its central location and easy access. More than 30 employees will be working in the new 16,200 square foot building. "Itíll be beneficial to have all these offices under one roof, centrally located to the prisons we serve," said James Pierce, DOP Piedmont Region Director. The staff helped plan the layout of the building, but DOP Director of Support Services Boyd Bennett calls it "Codyís building." Cody Phillips is a retired employee who was asked to come back and help with the planning of the new office. She also organized the open house.

Secretary Beck was the keynote speaker at the event. Director of Prisons James French, Assistant Secretary for Chemical Dependency Lattie Baker, general contractor Durwood Stephenson, as well as other division managers also gave remarks. A lunch prepared by staff from the Caswell Correctional Center was served and all guests were given tours of the new building.
---