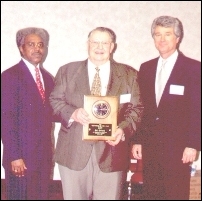 Secretary Theodis Beck, Ned Leftwich, and former Secretary Franklin Freeman

1999 Volunteer of the Year

RALEIGH

—Ned Leftwich of Lenoir was honored as the 1999 Volunteer of the Year for the Division of Prisons during an awards luncheon held April 12.

A volunteer at Caldwell Correctional Center for more than 30 years, Leftwich has dedicated countless hours to Caldwell's religious programs. He's also an active member of the Caldwell Community Resource Council.

"He is a very dedicated volunteer and an asset to the programs at this facility," said retired Superintendent Robert Elliott of Caldwell Correctional Center. "He never boasts of any of his accomplishments nor his services. He is genuine in his beliefs and this is displayed through his actions."

In December 1969, Leftwich started as an on-site volunteer in the religious programs and has been coming back ever since. He currently goes to the facility every Sunday for religious programs and fills in for the unit chaplain two mornings a week. "He always has a nice word to share with both staff and inmates," said Elliott.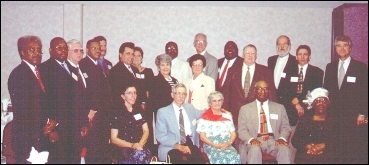 1999 Volunteers of the Year pose with Secretary Beck and former Secretary Freeman.
As an active member of the Community Resource Council, Leftwich has assisted in getting clothing for indigent inmates being released, securing greeting cards and other supplies. He also played a major role in the employee appreciation cookout the Council gave the staff.
In addition to his on-site volunteer work, Leftwich has served as an off-site sponsor in the past. He would take inmates to church and out to eat. "He was never selective in who he sponsored," said Carolyn Melton, program director at Caldwell.
A retired businessman, Leftwich and his wife Delores are members of Lower Creek Baptist Church. He also served in the U.S. Army during World War II.
Leftwich was one of 20 volunteers nominated for this year's award. Others recognized during the luncheon included: Erlie Glenn (E.G.) Collins, Warren Correctional Institution; Willie Odell Jordan, Raleigh Correctional Center For Women; Julia McDonald, Fountain Correctional Center For Women; Sylvia Deloris Foster, Nash Correctional Institution; Karen Hause, Craven Correctional Institution and Eastern Correctional Institution; Alex Brown, Duplin Correctional Center; Lillian Niles, Wilmington Residential Facility For Women; Rev. Joe McLean, Odom Correctional Institution; Dr. Saeb Bayazid, Morrison Youth Institution; Kent McMillian, Sandhills Youth Center; Rev. Willard Carr, Columbus Correctional Institution; James P. Casey, Johnston Correctional Institution; Jeff Rudd, Dan River Prison Work Farm; Artis Levernon Smith, Forsyth Correctional Center; Rev. Gary Posey, Cabarrus Correctional Center; Mary Francis Basinger, Piedmont Correctional Institution; James & Mary Foreman, Black Mountain Correctional Center; Claudett Hurt, Catawba Correctional Center.
---