Staff Celebrates Clean and Green 2000
By Tracy Little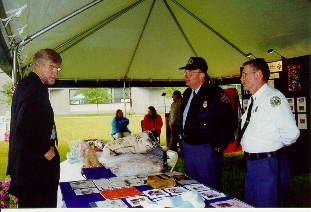 Assistant Secretary Lynn Phillips, left, discusses the blanket recovery project with Correctional Officer Mike McIntyre and Lt. James Morgan of Southern Correctional Institution.

RALEIGH —

Despite rain and unseasonably cool temperatures, Department of Correction staff put their best foot forward April 28 during the Clean and Green 2000 event to celebrate State Government's efforts toward environmental sustainability.

Visitors "oohed" and "aahed" when they examined exhibits such as the in-vessel composting unit from Brown Creek Correctional Institution and vermicomposting bin from Sampson Correctional Institution. Sampson's tent also provided shelter from the rain and gave staff some extra time to explain how the facility has reduced its waste more than 86 percent. Supt. Steve Muller, recycling coordinator Tyrone Owens and others walked guests through the process of using worms to eat through waste.

"Look at the size of those tomato plants," one man said. "Is that for real?" The plants were all potted at the same time. The one fertilized with compost from the unit was more than four times larger than the one in regular soil and twice as large as the one treated with a commercial plant food.

Sampson was recognized as an environmental leader in State Government by winning the Exceptional Steward Award as part of the Governor's Awards in Waste Reduction. Muller and Owens also presented Secretary Theodis Beck with a personal office-size vermicomposting unit.

"Once again, Correction has demonstrated its leadership in the area of environmental sustainability," said Secretary Beck. "These exhibits are just a sampling of the many diverse and innovative projects.

Over at the Correction Enterprises' exhibits, brave waterlogged contestants tried their hands at the beanbag toss. The target? Slots within an Enterprise-constructed recycling container.

Under another tent, representatives from Caswell Correctional Center showed off electric and pneumatic tools that had been repaired by trained inmates for reuse by state agencies. "Lots of people have stopped by and said they didn't know this service was available. They've picked up some cards and hopefully it will generate some more business," said Alan Wrenn, production supervisor of the project.

Visitors to the Southern Correctional Institution display gently touched mounds of blankets and other handmade items. Working in conjunction with private businesses, Southern collects material the manufacturers would normally discard. Inmates reclaim the material to construct blankets and other handmade items such as puppets and pallets that are distributed to emergency relief and non-profit groups. Engineering developed a power usage at facilities. The program helps identify unusual increases in usage over prior years and help establish a baseline.
---