Superintendent Helps Inmates Gain "Knowledge for Success"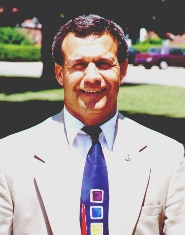 Supt. John Crawford
By Pamela Walker
The transition back into society is being made easier for some inmates thanks to a program called "Knowledge for Success." Last fall Duplin Correctional Center Supt. John Crawford started the project which is designed to help inmates line up employment upon their release from prison.
Crawford identifies inmates for the program who will be released or paroled within three months, but will be incarcerated long enough to complete the course. It is a voluntary program that includes a class provided by Duplin County Job Link Career Center at James Sprunt Community College four times a week for five weeks. The class is called B.E.S.T, which stands for basic employability skills training. Instructors teach the inmates resume writing, how to access the job market and employers, and interviewing skills. The inmates also learn how to read job announcements and newspaper ads and how to search the Internet for jobs.
The program doesnít stop there. Inmates are then assisted with securing a suitable job and their progress is tracked for up to three years. Crawford feels that inmates who complete this program will have a higher rate of job retention and a lower re-arrest rate.
"The main objective is to keep people from returning to prison," said Crawford. "Itís a start we can keep building on. Right now, weíre helping educate inmates on how to find employment and what they need to do to apply.
"Itís a win, win situation for all involved," added Crawford. "The inmates are helped with bettering their lives after incarceration, employers are connected with qualified workers, and it saves the state money in many ways in the long run."
Crawford says this program will help offenders build self-respect and it will provide incentives for positive change. So far, two classes of inmates from Duplin Correctional Center have graduated from the program. The participants are given a grade upon completion of the program based on pop quizzes and evaluation of individual class assignments. They are also assisted with attaining proper civilian clothing they can wear to their graduation ceremony as well as to job interviews.
"This program was a big help to me," said Devone Best, a former inmate at Duplin Correctional Center. "I learned how to fill out an application and resume, talk to employers and have more confidence in myself." Best is now employed at a car wash in Warsaw.
Employers benefit from the program as well because the workforce is broadened with more qualified workers. According to Crawford, employers may also get protection from the Federal Bonding Program, which is available for employers to cover training costs for the first year. It provides individual fidelity bonds for employers who hire job seekers unable to get coverage by commercial carriers because of a record of arrest, conviction, imprisonment, dishonorable discharge, history of alcohol or drug use, lack of employment history or poor credit history.
Crawford says the state benefits in many ways. "One plus for the state is the program helps an offender become a productive, law abiding, tax paying citizen. Thereís also a better chance they will go off welfare and their dependants will go off welfare." He adds that there is also a substantial savings if the offender never returns to prison.
The total cost of holding a class with 15 inmates is less than $500. "Thatís a small price to pay in relation to the potential gain and cost-savings that can be realized if an inmate remains a productive tax-paying citizen in our society," said Crawford.
Crawford initiated this project through the Correction Leadership Development Program.
---