NCCIW Employee Brings 33 Babies Into His Home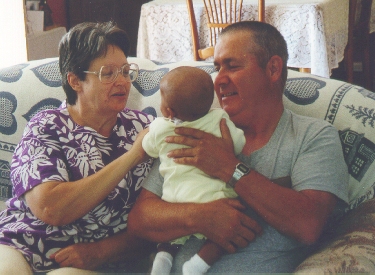 Frances and William Hutson coddle foster child.
By Pamela Walker
WENDELL – When you walk into the home of William and Frances Hutson it's obvious they love children. The North Carolina Correctional Institution for Women boiler operator and his wife not only have pictures of their two biological children, but also dozens of pictures of their 33 foster children that have been in their care during the past 18 years.

"We treat all of them like they're our own, we take them everywhere," said Mr. Hutson. Currently the Hutsons are foster parents for a 5-month-old little boy and they have no idea how long he'll be with them. "We just love them, nurture them, and knowing they are safe is what it's all about," said Mrs. Hutson.

They've had babies as young as 2-days-old and the oldest child they took in was a 1-year-old. The longest they had a foster child in their care was nearly three years. The Hutsons say as expected you get attached, but Mrs. Hutson says, "It helps to ease the pain just knowing where the child is going and that they will be cared for."

The couple says they do it for numerous reasons. "One big reward is when you keep them long enough and they start calling you daddy and mommy," said Mr. Hutson. The couple says Jesus called them to start caring for children. Mrs. Hutson explains, "I had a dream of a child calling for help and it was so strong that we went outside looking for a child in trouble. We talked about it afterward and we just took it as a sign."

They say the Department of Health and Human Services needs more foster parents and they encourage anyone who loves children to step up to the challenge. "It's a lot of hard work, but they're worth it," said Mrs. Hutson. Potential foster parents have to go through training to get licensed and then attend 10 hours of training a year to renew the license. The Hutsons say every year they have to get physicals, a fire inspection of their home, the health department tests the water, and a DHHS worker visits the child in their home every three months. The worker also has constant contact with them by telephone. In addition, DHHS gives foster parents a monthly payment to help cover the child's medical care, diapers and toys.

The children in their care either have been adopted by other people or eventually returned to their parents. "The first priority is to try and reunite them with their biological parents," said Mr. Hutson. He added that some of the mothers and fathers need to go to parenting classes or improve their financial situations. "Some babies come to us healthy, they were just born into a bad situation, while some have been born with drug and alcohol in their systems and have special needs."

The Hutsons have kept in touch in one way or another with most of their foster children. They say some parents have called to say thank you and they often get cards and pictures from the children. In the room where all the babies have stayed, they have a wall of pictures featuring each child they have had in their care. While they say they will never forget any of the children, some of them are particularly special.

"When we had Shay (not her real name), I would lay her on my tummy every day and I would play a Lion King tape. I still get choked up when I hear it," said Mrs. Hutson. Shay was the child they had in their care the longest. They both say they considered adopting her, but when they found out a person in her family wanted to adopt her they changed their minds because they felt she needed to be close to her roots.

Mr. Hutson, who started out working at the Randall Building mailroom has been a Correction employee for 21 years and hopes to retire in a few years. However, he says he'll be a foster parent for as long as he's physically able.
---