| | | | | |
| --- | --- | --- | --- | --- |
| | | North Carolina Department of Public Safety | | |
November 2000
---
Hall tapped to lead Sampson Correctional Institution
By Keith Acree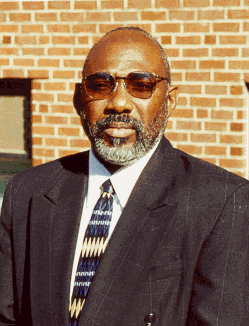 CLINTON- Lafayette Hall has been named superintendent of Sampson Correctional Institution effective Oct. 1. Hall is no stranger to the staff at Sampson, for the past 10 years he has served as the facility's assistant superintendent for custody and operations.
"Lafayette will be a fine leader for the team at Sampson Correctional Institution," said Secretary Theodis Beck. "He knows the operation there well and has earned the respect of the officers and staff."
Hall's career with the Department of Correction began in 1978 at Pender Correctional Center, where he served as a program assistant and a correctional officer. Later he moved to a program assistant position at Duplin Correctional Center before his promotion to assistant unit manager at Eastern Correctional Institution in Maury. In 1986, he was promoted to unit manager at Eastern.
Hall said he is very happy about the opportunity to serve as superintendent at Sampson. He's proud of the team there and says he's looking forward to building on their professionalism and working closely with the community.
Hall lives in Magnolia and has one son in high school. In his off-duty time, Hall serves as a trustee at his church, First Baptist in Kenansville, and as the secretary of his Masonic Lodge. He also enjoys photography.
Hall succeeds Steve Muller as superintendent at Sampson. In September, Muller assumed the superintendent's job at Pamlico Correctional Institution.
---
Return to Correction News Front Page
DPS | Adult Correction | Prisons | Community Corrections | Correction Enterprises | ACDP | News | Offender Info | Contact
© 1995-2012 North Carolina Department of Public Safety. All rights reserved.