| | | | | |
| --- | --- | --- | --- | --- |
| | | North Carolina Department of Public Safety | | |
November 2000
---
Pierce Promoted To JDM In Rockingham County
By Pamela Walker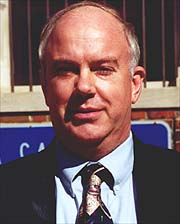 REIDSVILLE- Larry Pierce was promoted to Judicial District Manager in District 17A in Rockingham County effective Oct. 1. Pierce replaces Larry Barefoot who retired.
"Larry Pierce is a career criminal justice professional who brings a lot of experience to this position," said Secretary Theodis Beck. "I am confident he's up to challenge of being a dedicated manager for his staff and the offenders they supervise."
In his new position, Pierce supervises 30 staff and approximately 1,500 offenders on probation or parole in Rockingham County. "I hope to get all our vacant positions filled quickly and do the best job that we can," said Pierce.
Pierce began his career in community corrections 25 years ago as a probation officer in Eden. He later became an intensive officer and was a chief probation/parole officer for six years before being promoted to his current position. Pierce received a bachelor of science degree in criminal justice from East Tennessee State University in 1972. The Eden Jaycees named Pierce the Young Correctional Officer of the Year in 1984.
A western North Carolina native, Pierce now calls Wentworth home. He lives there with his wife who is a teacher. They have two daughters in college and a son in high school. When he's not working, Pierce likes to fish, travel and attend football games.
---
Return to Correction News Front Page
DPS | Adult Correction | Prisons | Community Corrections | Correction Enterprises | ACDP | News | Offender Info | Contact
© 1995-2012 North Carolina Department of Public Safety. All rights reserved.