| | | | | |
| --- | --- | --- | --- | --- |
| | | North Carolina Department of Public Safety | | |
Employees and inmates spread holiday cheer
Here's how some employees and inmates at Department of Correction work locations
across the state spread their own holiday cheer.....
Albemarle Correctional Institution--The South Piedmont Steering Committee and the staff of Albemarle Correctional Institution shared the gift of love by collecting toys and clothing for 46 children, 20 elderly and four adults in Stanly and Richmond counties. The administrators and staff came together and gave toys, bicycles, clothing and money to help support those that were less fortunate. Front Row, from left to right: Jennifer Langley, asst. supt., Benita Witherspoon, unit manager; officer Randall Epps, chairperson; Linda Ross, classification coordinator. Back Row, left to right: Michael York, Albemarle administrator; Levonna Morrison, transfer coordinator; Franklin Steel, unit manager; Aaron Robertson, food service manager, officer Denise Blake, Steering Committee member; and Mr. John Hamlin, asst. supt.
Administration - Randall Building - Division of Prisons administration staff gathered Dec. 18 for their annual tradition of Christmas carols and a holiday luncheon.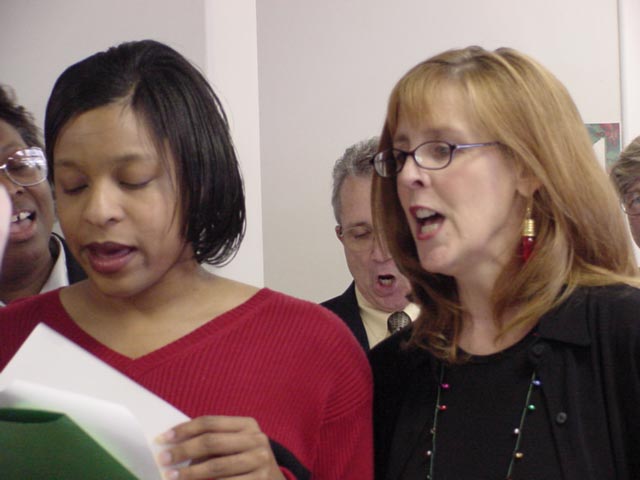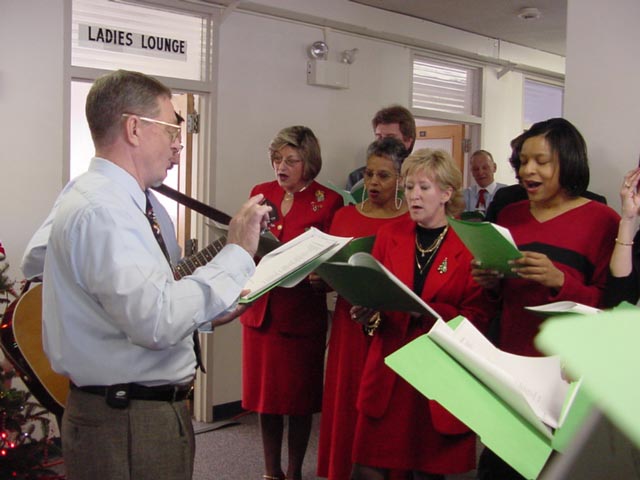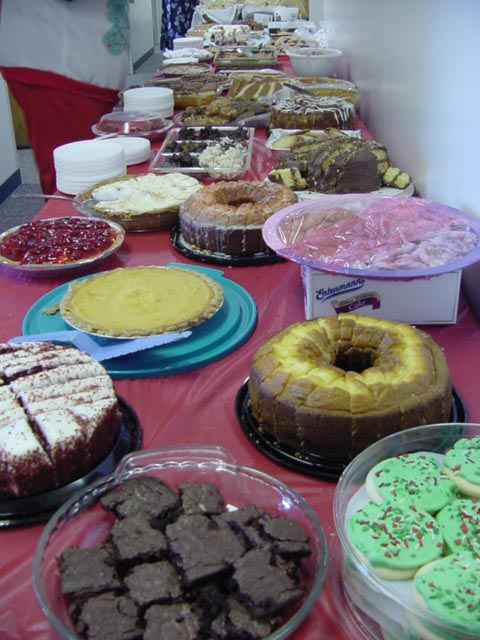 Craven Correctional Institution - Inmate students in the prison's commercial horticulture program grew poinsettias and donated them to several community agencies in New Bern, including CareBridge, Magnolia Place, Good Shepherd and Craven Community College. Diagnostic Center staff members created a snowman and snow woman from bags of shredded paper. A snowperson placed in the visitation area brought smiles and laughter from all.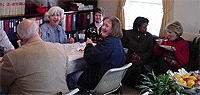 Davidson Correctional Center - Davidson's annual Christmas luncheon was held December 21, 2001. Staff, retirees, volunteers and community leaders all enjoyed a time of fellowship and tasty treats prepared by inmate Bruce Durbin, who has worked with some of the best chefs in the area and started his own catering business. Staff members and the Community Resource Council donated funds to support the event.
DCC, District 2--District 2 adopted the family of a probationer who lost her life when she was struck by a train in December. Staff members bought gifts for the son, mother and sister of the deceased. Unit 514X also donated items of perishable foods to the Durham Community Kitchen, a program of Urban Ministries of Durham, N.C.
DCC, District 6A--District 6A in Halifax County sponsored a family through the Department of Social Services. Staff members bought food, blankets, household items, cookware and dishes and even candy and fruit. On Dec. 20, the district held its annual Christmas lunch, featuring door prizes and delicious food by Chefs Ron Faithful and Doug Hardy.
DOC Administration and OSDT - Correction employees donated 2,277 pounds of food and other items, along with $125 to the Food Bank of North Carolina Dec. 20. The donations were collected from Department of Correction offices in Raleigh and Apex.
DOP-Program Services - Each year, Program Services plays the "White Elephant" Christmas game in which gifts are purchased for $10-15. This year, however, each staff member donated his share of the game money to support a single mother with three girls, participants in the Wake County Human Resources Holiday Cheer program. Donations totaled $175 to be used toward the purchase of gifts for the children. In addition, the section pulled together and fixed a beautiful basket filled with gifts for the mother.
Foothills Correctional Institution--The staff at Foothills Correctional Institution sponsored 26 children in the Angel Tree project sponsored by the Salvation Army Boys and Girls Club, an afterschool program for underprivileged children in the community. After Santa gave the kids their gifts, the Salvation Army sponsored a pizza party for the kids.
Hyde Correctional Institution--Program Assistant I Amanda VanGyzen sponsored a blood drive that resulted in 26 units of blood, while the Inmate Men's Club donated $100 to the Hyde County Department of Social Services. On Dec. 18, HYI entered a float in the Engelhard Parade with the them "The Grinch Who Stole Christmas. The float, which featured Lt. James Hartman as the Grinch and a replica jail cell designed by the maintenance staff, won first place for most original. Janet Knecht's clever slogan added to the float's originality: "As a thief you were too willing, so now, at HCI , you are chillin.'"
Lumberton Correctional Institution – Employees from Lumberton donated $450 to the Robeson County Department of Social Services. This money was used to help provide a brighter Christmas for a family in need. Also, the Inmate Men's Club donated $300 to the Department of Social Services to buy gifts for a family of six.

Marion Correctional Institution – Correctional Officer Brad Harmon collected used thread spools from the Correction Enterprises Sewing Plant to donate to Nebo Elementary School. Kindergarten students then made miniature Christmas trees out of the cones for residents of area nursing homes. Harmon says there are several advantages to the project, including recycling of the cones and increased cooperation between the prison and the community.

Odom Correctional Institution - Employees from Odom delivered gifts on Dec. 17 for children "adopted" through the Northampton County Department of Social Services. Each year the unit tries to provide toys for several children.
Nash Correctional Institution-C. Jones, J. Boone and
Pamlico Correctional Institution - Members of the Men's Service Club, a group of inmates that generally provides services to the inmate population, chose to donate $300 to the Pamlico Senior Center for the Meals-on-Wheels program. The Service Club earns money through recycling aluminum cans and taking and selling photos to fellow inmates during visitation. Pamlico employees also "adopted" a family through Child and Family Outreach at the Neuse Center, pitching in to buy Christmas gifts for three brothers, including toys, clothes and a bike.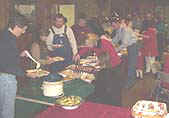 Rutherford Correctional Center - Rutherford Correctional Center held its annual Employee Christmas Dinner for staff and their families on Dec. 21. The evening featured a covered dish dinner, drawings for cash prizes, games and a visit from Santa who had gifts for all the children.
Wake Correctional Center--Wake Correctional Center Service Club played Santa for two children identified through Social Services. The Service Club allotted $250 per child to purchase gifts from a wish list that each child provided. Each child received a winter coat, two outfits, a shirt, a pair of shoes, undergarments, three PlayStation games and various items from their wish lists, including a fishing pole, a skateboard and model cars.
---
DPS | Adult Correction | Prisons | Community Corrections | Correction Enterprises | ACDP | News | Offender Info | Contact
© 1995-2012 North Carolina Department of Public Safety. All rights reserved.