| | | | | |
| --- | --- | --- | --- | --- |
| | | North Carolina Department of Public Safety | | |
North Carolina
DEPARTMENT OF CORRECTION
Michael F. Easley, Governor Theodis Beck, Secretary
For Immediate Release
July 13, 2001
Contact: Keith Acree
(919) 716-3700
---
Department of Correction honors probation/parole officers of the year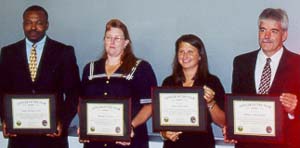 APEX – Four probation/parole officers from across the state were honored as Probation/Parole and Community Supervision Officers of the Year during a ceremony today.
The officers were recognized for various accomplishments, including the outstanding supervision of the offenders on their caseloads, volunteer service to their communities and service beyond the call of duty. The four were selected from more than 1,800 probation and parole officers who work for the department.
During the ceremony, Correction Secretary Theodis Beck expressed his pride in their work. "Probation/Parole officers have a tough job that can be emotionally, mentally and physically taxing," said Beck. "The work they do supervising offenders in the community is critical to preserving public safety and it often goes unrecognized."
The officers honored and their work locations are:
Jennifer Miller – Probation/Parole Officer – Beaufort County
Nate Scott – Probation/Parole Officer – Scotland County
Sherri Cook – Probation/Parole Officer – Davidson County
Bill Neal – Chief Probation/Parole Officer – Watauga, Avery, Mitchell counties
# # #
---
DPS | Adult Correction | Prisons | Community Corrections | Correction Enterprises | ACDP | News | Offender Info | Contact
© 1995-2012 North Carolina Department of Public Safety. All rights reserved.